Allows you to remotely control all the digital media stored in your PC library
(iTunes or Windows Media Player) from any room in your home.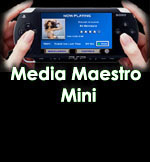 Gives you the ability to instantly edit playlists, change tracks, adjust the volume, and more -
All this without having to walk to your PC or plug in your iPod.
Maestro Clients can be any of hundreds of standard devices connected wired or wirelessly to your network. You may already own one.
Maestro Client Examples: (What is a Maestro Client? )
Maestro clients use the device's internet browser, so there is nothing to install.

Maestro Set-up Examples:
PC Direct to Stereo
All your music plays directly from your PC through your stereo or receiver
Add a Maestro Client to remotely control your PC (wired or wireless)

PC to Remote Speakers or Stereo
Music is sent from your PC (wired or wireless) to a remote set of speakers or stereo
Add a Maestro Client to remotely control your media
Your media controls are where you are listening - no more hiking to the PC